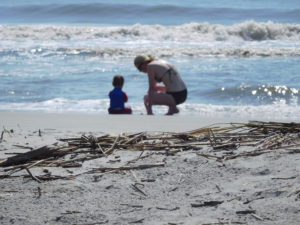 This past August my family and I traveled to Hilton Head Island, South Carolina (HHI). It was an over ten-hour drive from where we live in Maryland. I will just add that such a long car ride with two toddlers is a form of hell that I hope most people will never, ever have to experience. Not to mention that my daughter came down with a horrible ear infection and a MRSA infection in her foot that then spread to my husband's leg.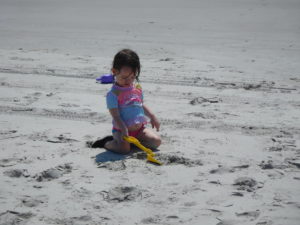 All that complaining aside, HHI is a beautiful and peaceful place. My whole family was there, which was wonderful to watch my children play with their cousins and for me to spend time with my siblings and parents. Beginning from the time I was in grade school, my parents would pack up the car and take us down to the island for our summer vacations. As a result, I have copious memories of the beach, tide pools, Pirates Cove Miniature Golf, the shops in Harbour Town, the arts festival in Shelter Cove, and dinners at Crazy Crab and Hudson's Seafood House. It was amazing and touching, then, to share some of these experiences with my own children.
Besides those memories, HHI has a rich and fascinating history. When William Hilton landed in the Lowcountry in 1663, he encountered an island that was the seasonal home of Spanish-speaking Native Americans from the Yemassee tribe. Ruins of mysterious shell rings measuring up to 240 feet across and nine feet high were also found on the island. Today, only one ring remains in existence and it can be found near the entrance to the Sea Pines Forest Preserve.[1] Hilton, an English sea captain, came across the island while sailing from Barbados in search of tropical lands on which to establish English plantations. In his travel journal, he identified a headland near the entrance to Port Royal Sound, and named it "Hilton's Head"— after himself, of course. [2]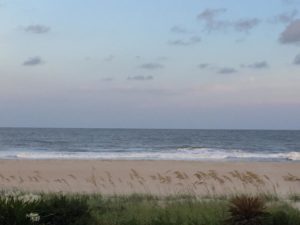 In 1698, King William III of England granted HHI as part of a barony to John Bayley of Ireland. Later his son appointed Alexander Trench to be the first property manager of the island. For a time, HHI was actually referred to as Trench's Island. In the early 1700s, the horrors of chattel slavery began to take shape on the island as slave traders brought enslaved West Africans to the Georgia and South Carolina Sea Islands to cultivate the growing rice and cotton fields. By 1739, the slave traders had brought about 20,000 enslaved Africans to South Carolina.[3] By 1860, the island housed twenty-four plantations. Because of the land's low elevation and hot summers, most of the wealthily landowners and enslavers spent little time on the island. They decided instead to locate their main residences on the less tropical mainland.[4]
When the country broke out into civil war, HHI became the scene of the largest amphibious landing by U.S. forces until the D-Day invasion in World War II. On November 7, 1861, more than 12,000 Union soldiers landed on the island and took it over following the Battle of Port Royal at Fort Walker. Union troops then used the island to establish the main blockade base on the South Atlantic coast.[5]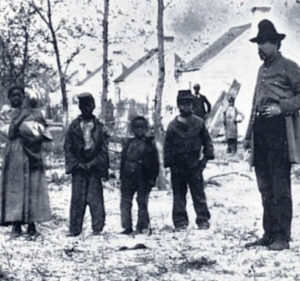 Once the island fell to Union troops, hundreds of former enslaved persons flocked to the island and in 1862, General Ormsby Mitchell created the town of Mitchelville to accommodate the growing community. This was the first self-governing Freedmen's Village in the United States. From Reconstruction to the Depression, the island became the home to many former enslaved persons and their descendants. This growing community preserved and cultivated a rich cultural identity known as "Gullah" (or Geechee) with authentic West African components, including a distinctive language, history, economic system, and artistic traditions. The Gullah culture and its mark on the island survive today and remain a living legacy to the community's strength and perseverance.[6]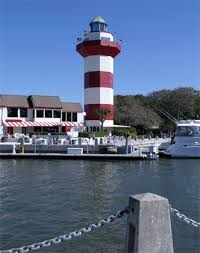 Before the mid-twentieth century, the island remained somewhat isolated because access to it was limited to private boats and a state-operated ferry. This all changed in 1956 with the building of the James F. Byrnes Bridge and Charles E. Fraser developing the Sea Pines Resort.[7] With Sea Pines, Fraser created a prototype for the modern resort community. Soon after its creation, several other developments followed on the island, including Palmetto Dunes Plantation; Shipyard Plantation; and Port Royal Plantation. All of these communities mimic Sea Pines' architecture and layout. Nevertheless, Sea Pines still holds the central locality for HHI, because it contains Harbour Town and the recognizable lighthouse that so many people associate with the island.[8]
I am going to have to cut this post short, because it is bath time and my two-year-old daughter is acting up. But, I would like to add a note that I hope to expand upon in a subsequent piece. With all the heated discussion about confederate monuments and the strong feelings that tearing down such pieces would destroy our history, I cannot help but wonder: would it not be better to build new monuments that celebrate the fortitude and resilience of the freed men and women, such as the people of Mitchelville, who created and preserved their communities and cultural identities? If we want to commemorate this period in our history, these are the people we want to revere, right? Shouldn't we strive to emulate them and not the confederate leaders who stood on the principles of racism, enslavement, and violence?
Let me be clear, the statues of confederate leaders represent a heritage of hate. A deep, deep hate. Now, to be sure, that history should not be erased, but rather preserved and constantly examined in educational facilities, such as museums, libraries, and archives. But, absolutely, not celebrated. Certainly, not celebrated. We are better than that. We should strive to be better than that. There are far too many men and women in our history who actually deserve our admiration and respect—not to mention actually having their names be known outside of academic circles. We do not have to be desperate. We do not have to celebrate enslavers who fought against the United States to create a separate country based on the violence and hatred of white supremacy.
[1] "Hilton Head Island History and Heritage," Hilton Head Island, https://www.hiltonheadisland.org/see-and-do/history-and-heritage/ (accessed 4 September 2017).
[2] "Hilton Head Island, South Carolina," Wikipedia, https://en.wikipedia.org/wiki/Hilton_Head_Island,_South_Carolina (accessed 4 September 2017).
[3] "Gullah, Hilton Head Island," Hilton Head Island, https://www.hiltonheadisland.org/gullah/history/ (accessed 4 September 2017).
[4] "Hilton Head Island History and Heritage," Hilton Head Island.
[5] "Hilton Head Island, South Carolina," Wikipedia.
[6] "Gullah, Hilton Head Island," Hilton Head Island.
[7] "Hilton Head Island History and Heritage," Hilton Head Island.
[8] "Hilton Head Island, South Carolina," Wikipedia.